About Us
Central Florida's Vacation Rental Experts
To read more about the legacy of our company, our family, and our beloved founder, Dave Robinson- Click Here
Welcome to Vacation Central Florida! We're not just any property management company; we're a family-run business deeply rooted in our love for Walt Disney World and the sun-kissed beaches of Central Florida, specifically along The Space Coast. Before diving into property management, we were once property owners living up North ourselves, purchasing our first vacation home near Disney World in 2006. When we weren't soaking up the magic and sun, we rented our home to other families so they could experience the wonders we held dear. As our friends joined the vacation home community, we lent a hand, and soon enough, we realized our passion for helping others could be something more. In 2012, we took the plunge and officially established Vacation Central Florida as our professional passion. Join us on this exciting journey as we share our story and show you the magic behind the scenes!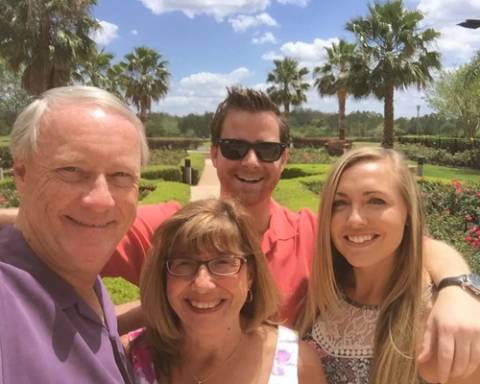 A Passion for Florida Vacations
Daniel Robinson, the current President of Vacation Central Florida, has a rich history in Family vacations, as they were a staple of his childhood. From the age of zero to fifteen, Daniel practically "grew up at Disney," gaining an intimate knowledge of the theme parks. With each Disney trip or Cocoa Beach vacation, Daniel accompanied his parents, Dave and Patti, year after year. Through these experiences, he was unknowingly being prepared for a career in the vacation rental industry long before the concept of "Airbnb" became popular.
Today, Vacation Central Florida stands as a testament to the passion and professionalism that Daniel and his family have poured into the business. They are dedicated to helping clients manage their vacation rentals and assisting guests in finding the perfect vacation spots. The VCF Difference™ is evident in their approach, as they prioritize family values and exceptional service.
Daniel's journey in the vacation rental business was significantly influenced by his father, Dave, who possessed a radiant passion for people, the industry, and the guest experience. After graduating from the University of Kentucky, Daniel further developed his expertise by studying his father's approach and immersing himself in the vacation rental world. Together, father and son continuously refined their processes while growing the company as a family endeavor.
The knowledge and passion that Daniel inherited from his father have allowed him to expand upon Dave's legacy, focusing on fostering a "Family First" mindset within the company. This philosophy has set Vacation Central Florida on a path towards continued success in helping owners optimize their vacation rentals and providing guests with affordable, quality accommodations.
The dedicated and passionate team at Vacation Central Florida is comprised of local experts in the Disney and Cocoa Beach markets. The company's smaller size ensures that owners and guests receive personalized, hands-on care. Vacation Central Florida's exceptional service has earned them a 4.7-star host rating with thousands of positive reviews, and they now serve thousands of satisfied guest families each year. The Robinson family firmly believes in the adage, "When you do what you love, and love what you do, success comes to you." This belief has propelled Vacation Central Florida to become a leading provider of vacation rental success since 2006, with plans to continue building for decades to come.
We thank you for your interest and support, and we look forward to welcoming you to Florida soon!
- The Robinson Family -
Connect with Us Today