Best Food and Snacks You Must Try At Disney Springs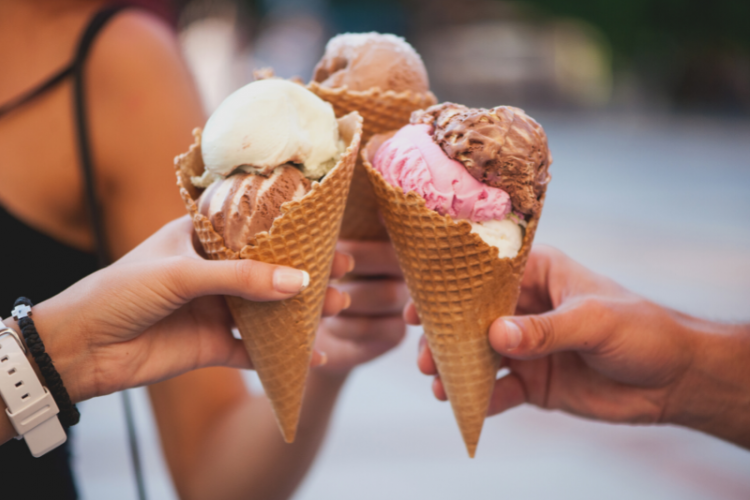 Disney Springs is a lot more than just a shopping center. Disney Springs is Orlando, Florida's entertainment, shopping, and dining district. A significant renovation of the entire destination, formerly Downtown Disney, doubled this bustling area's retail and restaurant options! Visit Disney Springs for more than 50 different dining options, some of which are mouth-watering to those found inside the parks! If you're feeling overwhelmed by all Disney Springs options, no worries- We've got you covered. In our opinion, several places are without a doubt must-try-best-meal-ever level restaurants.
Town Center, Marketplace, The Landing, and the West Side are the four distinct neighborhoods that comprise Disney Springs. You'll find everything from chain restaurants and quick-service snacks to elaborate table-service menus, and several restaurants combine dining and entertainment, such as live music and spectacular themes.
We're about to make your decision on where to devour delicious food at Disney Springs a lot easier if you're not sure where to start. We'll start with the restaurants, followed by the most raved dishes.
Cookies and Cakes at Gideon's Bakehouse
Gideon's Bakehouse is a local Orlando bakery that opened its second and flagship location in Disney Springs and has since become a sensational sweet spot. They serve enormous cookies you've never seen and other sweet treats with seasonal offerings.
If you've been following Disney food news recently, you've undoubtedly heard of Gideon's Bakehouse! The shop is famous for its massive half-pound cookies in various creative flavors.
They have unique limited-time flavors every month of the year, in addition to the originals like Chocolate Chip and Cookies & Cream! Each cookie costs $6, and the Pistachio Chocolate Chip Cookie is a popular choice!
And, speaking of Gideon's Bakehouse, it's not just for cookies. You can also get massive cake slices with double frosting! The portions, like the cookies, come in various flavors that alternate daily. There has not been a complaint about any cookie flavor, and you get a LOT of cake for the price.
Morimoto Spare Ribs from Morimoto Asia
Iron Chef Masaharu Morimoto created Morimoto Asia. Its menu features Pan Asian cuisines (Chinese, Japanese, and Korean options), including dim-sum style with small plates, meat plates, noodle bowls, and the extremely expensive (but delicious) Japanese A5 Wagyu Beef.
Skip the in-park turkey legs in favor of this one if you want to eat a hunk of meat off the bone. These tender pork ribs, braised in a spicy-sweet hoisin sauce and lightly fried, are served in quarter or half racks and are easily Morimoto Asia's most famous dish.
Chicken Tenders at Chicken Guy!
Chicken Guy! is Guy Fieri's quick-service chicken restaurant, where the sauce is the star (aside from the chicken, of course). Visit Chicken Guy! in Disney Springs for some toothsome savory treats! Three tenders for $5.99 or five for $7.99 are available at this Guy Fieri restaurant, and each comes with two sauces. Chicken Guy offers 22 different spices; if you can't decide, you can buy more for 50 cents each. (All 22 are only $11!). Traditional sauce flavors such as buffalo, buttermilk ranch, and honey mustard are available, but why not branch out and try wasabi honey, bourbon brown sugar BBQ, spicy mayo, and some sweet sriracha BBQ?
Cheeseburger from D-Luxe Burger
D-Luxe Burger is a quick-service burger restaurant that serves some of the best burgers in
Disney World. Gourmet burger flavors include the Dublin Burger, the Barbecued Burger, the El Diablo Burger, and others, as well as artisanal gelato, shakes in s'mores, strawberry, and cookies n cream!
The cheeseburger from D-Luxe Burger is the finest you're likely to find on Disney property, from the greasy, crispy-edged patties — a blend of Angus chuck, short rib, and brisket, served medium — to the buttery toasted Parker House bun. Pay a little more for the fresh-cut fries with various dipping sauces.
Ger's Bread and Butter Pudding from Raglan Road
If you want a lively and authentic Irish pub atmosphere, Raglan Road is the place to go. Their unique bread pudding is a classic that will satiate even the heartiest sweet tooths. The meal is well presented, with butterscotch tastes, soft bread, and crème anglaise sauce on the side. The crème anglaise is poured on top of the pudding because the pudding's cup is unable to hold all of that delicious sweetness. You can have an authentic Irish experience right here in Orlando when you combine that with the enjoyment of live music and traditional Irish step dancing.
Mickey Mouse Dome Cake at Amorette's Patisserie
Amorette's Patisserie is a Disney-owned and operated bakery that offers traditional and modern pastries. Given the attention to detail and artistry that goes into every beautiful pastry at Amorette's Patisserie, you'd expect they come with a high price. That's why it's surprising that you can practically pay for some pastries in change!
From brownies to crêpes, there are several options under $10. So you can score some Instagram-worthy snacks for a steal! But what is our best choice has to be the Mickey Mousse Dome Cake!
These stunning mousse cakes will melt in your mouth with the rich taste of chocolate chiffon cake and layers of dark chocolate mousse and white chocolate mousse, with a red and yellow patina inspired by Mickey Mouse! And you get all that for $9 only!
Cupcake ATM at Sprinkles
Sprinkles is the "world's first cupcake bakery" (the original location opened in Beverly Hills in 2005). The show's star is handcrafted cupcakes, but the Disney Springs location also serves slow-churned ice cream and homemade cookies.
Sprinkles' Cupcake ATM lets you walk away with a sweet treat and a smile, unlike regular ATMs, which leave you with a withdrawal fee. This breakthrough in snacking technology offers a one-of-a-kind experience. After you've selected your cupcake from the menu, the ATM screen will show you a robotic hand picking of your cupcake! It will appear in the form of a small box in front of the ATM, ideal grab and go bite.
Charcuterie Board from Wine Bar George
Master Sommelier George Miliotes runs Wine Bar George, a 210-seat wine bar (it is the only Master Sommelier-led wine bar in Florida). This place is all about enjoying and knowing more about wine. But, of course, the best part is pairing wine with food; the Charcuterie Board and Artisanal Cheese Board are both excellent choices. Some sharing options are artisanal meats, cheeses, grilled bread, chutney, honey, and grain mustard.
Don't have much wine knowledge? Both wine experts and amateurs can enjoy themselves at Wine Bar George. George Miliotes, the restaurant's owner and master sommelier, is said to have been there almost every day since it opened. So you'll have access to the most knowledgeable guidance. Take a seat on the upper patio to enjoy the shade and an afternoon of entertaining people-watching.
Ice Cream from Salt & Straw
Salt & Straw is Disney Springs' newest ice cream shop, serving some of the most unusual flavors you've ever tried. Arbequina Olive Oil, Freckled Mint Chocolate Chip, Bottomless Limes, and Adventurous Llamanaut are just a few of the flavors available.
Though they serve some traditional ice cream flavors, this isn't the best place for picky eaters, and there's no seating inside or out. However, if you want to venture outside of your ice cream comfort zone, Salt & Straw is the place to go.
Chocolate Dipped Waffle Cone Ice Cream at Ghirardelli
The chocolate-dipped waffle cone ice cream at Ghirardelli is our favorite! It's undoubtedly the best bargain at Ghirardelli. This vast waffle-cone ice cream costs less than $5!
You can smell Ghirardelli Chocolate Factory from afar. We're not kidding: the Ghirardelli smell permeates the entire building, and we're not complaining. It doesn't have a particularly innovative menu but serves tasty chocolate squares, sundaes, shakes, cocoa drinks, and other treats.
Around the World Tray at Coca-cola Store
The Coca-Cola Store Orlando Rooftop Beverage Bar allows guests to sample a variety of Coca-Cola brand beverages while enjoying stunning views of Disney Springs. In addition, every day at 3:00 PM, an Adult Beverage menu is available.
The around-the-world tray Coke sampler is incredible. Enjoy 16 sparkling and still beverages from around the world. You can also get them as floats!
From juicy burgers and elegant pastries to handcrafted chocolates and freshly made poutine, there is something for every palette, craving, and appetite at Disney Springs. So enjoy your Central Florida vacation to the fullest with our top best Disney Springs snack recommendations.