Best Restaurants in Disney Springs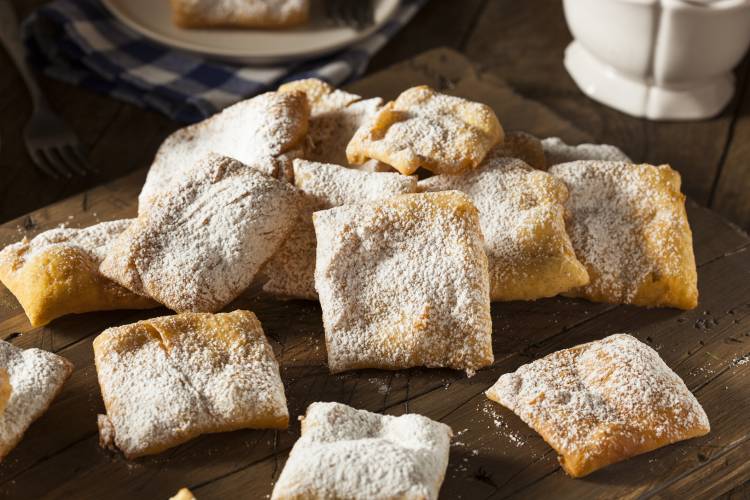 Calling all foodies! Disney World might also be the tastiest place on earth. Disney Springs — Disney World's vibrant open-air shopping and dining complex — has completely transformed since it first opened back in 1975. (That's long before Epcot, Hollywood Studios, and Animal Kingdom came to be!) Today, this 120-acre waterfront promenade is a culinary destination of its own. You can spend an entire day here sampling from the menus of over 50 dining options, from sweet and savory food trucks to signature restaurants by world-class chefs.  
Don't know where to start?  
We're dishing out the delicious details on the best restaurants in Disney Springs — for breakfast, lunch, and dinner! 
Breakfast/Brunch 
Chef Art Smith's Homecomin' 
Breakfast at this Southern restaurant will taste like a meal straight from home … if your home had an award-winning celebrity chef cooking for you! Chef Art Smith's Rise n' Shine menu (only available on weekends) offers a selection of feel-good Southern breakfast dishes that'll be a hit for picky eaters and avid foodies alike.   
Our Menu Favorites: Go big with the Grand-Daddy Plate (three eggs any-style, pecan-smoked bacon, griddled country ham, cheddar cheese drop biscuit, and choice of two sides) or indulge your sweet-and-salty cravings with Fried Chicken and Doughnuts (two pieces of Chef Art Smith's famous fried chicken served with house-made sugar doughnuts and choice of side item). 
City Works Eatery & Pour House 
The ultimate sports bar in Disney Springs's West Side neighborhood is also your new favorite brunch spot. While City Works is often touted for its delicious all-American fare and extensive beer menu, they also happen to have the most inventive brunch menus in all of Disney Springs!  
Our Menu Favorites: Start off with a feisty Chak Shuka Khan (shakshuka with spicy tomato sauce, sunny side up eggs, goat cheese, and toasted baguette) and end off on a sweet note with a shareable Dock of the Beignets (French donuts served with chocolate-hazelnut sauce and mixed-berry jam for dipping). 
Wine Bar George 
Orlando ain't no Napa Valley, but an estate-style brunch at Wine Bar George will have you believing you're in the heart of wine country. Pair their signature list of wines, curated by Master Sommelier George Miliotes, with a delectable weekend brunch menu for the perfect sophisticated yet upscale experience.  
Our Menu Favorites: Order one of three charcuterie boards for the table then dive into classic breakfast favorites like French Toast (with mascarpone cheese and caramel sauce) or Steak and Egg Frites (skirt steak, eggs, and hollandaise sauce). 
Lunch 
Polite Pig 
Nothing's more satisfying than a juicy barbecue meal after a morning full of non-stop Disney fun. Reward yourself with savory wood-fired fare at this family-owned outpost with a menu of glistening chicken, pork, ribs, sausage and salmon cooked to perfection on the smoker. 
Our Menu Favorites: Warning! This menu is strictly for meat lovers. You can't go wrong with a Butcher Board for two (pork shoulder, smoked chicken, brisket and BBQ cheddar sausage with slaw, house pickles, two cornbreads, and a choice of two sides.) Or choose the classic Baby Back Ribs (coated with Layla's Sweet BBQ Sauce and served with jalapeno cornbread, Signature Polite Slaw, and choice of side.) 
Jaleo  
Celebrity chef José Andrés has been celebrated for his garlicky shrimp, chicken croquetas, and paella all over the USA. Lucky for us, Disney Springs has the largest of his signature restaurants, Jaleo, to date! Enjoy traditional and contemporary Spanish dishes and a premium selection of sangrias, Spanish wines, and sherries — all in a red-hued dining room with pulsating music and a few energetic "¡Arriba!"s from the staff. 
Our Menu Favorites: Begin with the Gambas al Ajillo (the very, very famous tapa of shrimp sautéed with garlic) then enjoy hearty, traditional Rossejat Negra for two (paella with head-on shrimp, squid ink, calamari sofrito and aliori.) 
The Daily Poutine 
Who could resist the cheesy, meaty, melty goodness of poutine? This French-Canadian comfort food consisting of French fries smothered in cheese curds and gravy is served daily at the ever-popular outpost. Try the classic recipe or go global with a Latin, Italian, or French twist! 
Our Menu Favorites: It was nearly impossible to pick favorites from the five delicious options, but we'd have to say the Latin Poutine (Fried Yucca, Black Beans, Pulled Pork and Queso Fresco) and the French Poutine (French Fries, Mushroom Cream Sauce and Gruyère) are truly one-of-a-kind! 
Dinner 
STK Orlando 
This sleek 14,000-square-foot space proclaims itself as "Not Your Daddy's Steakhouse."  
From the live DJ set and fire pit lounge to the rooftop patio offering the best views of Disney Springs — this upscale dining experience innovates on all fronts, especially their menu, featuring a full range of sizzling steaks and filets, a raw bar, and signature corn pudding. 
Our Menu Favorites: We love the flavor-packed Braised Beef Short Rib (served with jalapeño cheddar grits, roasted pepper relish, crispy shallots, and red wine glaze) with a side of Mac & Cheese Trio (traditional, bacon, and lobster) for a truly magical feast. 
Morimoto Asia 
Chef Masaharu Morimoto showcases dishes across the entire continent of Asia at his waterfront signature restaurant Morimoto Asia. The restaurant's massive, 2-story interior boasts glittering chandeliers, Shanghai-inspired lounges, a second-level sushi bar, and an exhibition kitchen that provides behind-the-scenes views of chefs in action. 
Our Menu Favorites: Who ever said ramen couldn't be fancy has never tried Morimoto's Duck Ramen (peking duck broth, egg noodles, duck meat, scallion, soy marinated egg, and cilantro). And for a Chinese-Florida twist, try the Orange Chicken (tempura chicken, Chinese broccoli, wok-tossed with a sweet Florida orange sauce). 
Paddlefish 
All aboard for a fresh seafood dinner on a 19th-century riverboat harbored on the shores of Lake Buena Vista! Paddlefish is 3-story floating fortress with the only rooftop-level, waterfront seating in Disney Springs. Aside from breathtaking views, is the unique land-and-sea dishes on a mouthwatering menu.  
Our Menu Favorites: Cool off with some fresh Crab Ceviche (blue crab, avocado, bell pepper, jalapeno, cilantro, lime, tortilla chips) or go big with a plate of steamed King Crab (served with corn on the cob and potatoes.) 
Orlando Vacation Planning 
Planning a trip to Orlando? Our Kissimmee & Orlando Travel Guide has plenty of more suggestions on what to see, hear, do, and eat! And when you're looking for magical accommodations near Disney and the rest of the Orlando parks without the Disney hotel price tag, check out our Top Vacation Rentals Near Disney to start planning your next Central Florida vacation. 
See you out there!