Get Ready to Blast Off! Enjoy a Unique Vacation with Space Coast Rentals Near Kennedy Space Center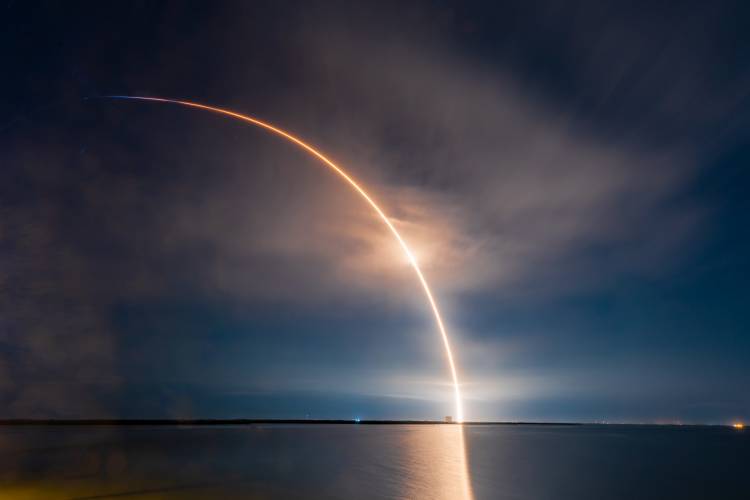 Reasons to Visit the Space Coast of Florida
Rocket Launches! How far away can you see them?
Are you ready to witness the launch of a rocket into space? If so, then you should plan your next vacation around a rocket launch at Kennedy Space Center in Florida. One of the best ways to enjoy this awe-inspiring experience is by staying at one of the many Space Coast rentals near the Kennedy Space Center. Many people wonder how far away they need to be to see a rocket launch. According to NASA, you can see a rocket launch from up to 25 miles away from the Kennedy Space Center. From this distance, you will be able to see the rocket as it lifts off and ascends into the sky. It's an incredible sight to see, and it's truly a once-in-a-lifetime experience that you don't want to miss.
Depending on the size and power of the rocket, you may even be able to hear the sound of the engine or feel the vibrations from the launch. This will depend on the specific rocket being launched, but it's definitely a possibility. Imagine feeling the power of the rocket as it blasts off into space – it's an experience that few people get to have. If you're planning on watching a rocket launch, there are a few things you should keep in mind. First, make sure you check the launch schedule ahead of time so you can plan your trip accordingly. Rocket launches can be delayed or rescheduled due to weather or other factors, so it's important to stay updated on any changes.
Another thing to consider is the location from which you'll be watching the launch. There are several viewing areas around Kennedy Space Center, including the Apollo/Saturn V Center, the Banana Creek viewing site, and the Playalinda Beach viewing area. Each location offers a unique perspective on the launch, so do some research to determine which spot is right for you. Book a place on Cocoa Beach, or one of our fantastic Cape Canaveral properties and see the launch right from the sand! Talk about creating vivid memories that will last a lifetime with your Family.
With its unique blend of space-themed attractions, outdoor activities, and stunning natural beauty, the Space Coast of Florida is a must-visit destination for all travelers. And with affordable vacation home rentals available, there's no reason not to plan your escape today. So why wait? Book your Space Coast rental today and get ready to blast off on an unforgettable vacation! Whether you're an avid stargazer or not, the Space Coast has something for everyone. Take a tour of NASA's Kennedy Space Center and learn about the history of space exploration, or stay in Cocoa Beach for a day of surfing and sunbathing. If you're feeling adventurous, try your hand at kayaking or paddleboarding along the Indian River Lagoon, home to a diverse array of marine life. And with mild temperatures and plenty of sunshine, Winter is the perfect time to explore all that the Space Coast has to offer. So pack your bags and prepare for lift-off – your dream vacation awaits!
History and Culture
Are you a history buff or a lover of culture? If so, then a vacation near Kennedy Space Center (KSC) is the perfect getaway for you! KSC has been at the forefront of space exploration since the launch of the first American satellite in 1958 to the Apollo 11 mission which saw Neil Armstrong take the first steps on the Moon in 1969. But there's more to this region than just space travel!
Here are some of the top historical and cultural attractions to see near KSC:
1. Rocket Garden: The Rocket Garden is an outdoor display of historic rockets and space vehicles. It's a great place to learn about the history of space exploration and get up close to some of the most iconic spacecraft in history. Visitors can stroll through the Rocket Garden and see a wide variety of rockets and spacecraft, including the Saturn V, which was used during the Apollo missions to the moon. The garden also features a replica of the Explorer 1 satellite, the first American satellite to be launched into orbit, as well as replicas of the Mercury-Redstone and Gemini-Titan rockets. Interactive exhibits offer visitors the chance to learn about the science behind space travel and the challenges that astronauts face on their missions. The Rocket Garden is a must-see attraction for anyone interested in the history of space exploration.
2. Astronaut Memorial: The Astronaut Memorial is a tribute to the brave men and women who have lost their lives in the pursuit of space exploration. The memorial is located at the KSC Visitor Complex and is a powerful reminder of the sacrifices made by those who dared to venture into space. The Astronaut Memorial was dedicated in 1991 and has since become an important site for visitors to pay their respects to fallen heroes. The memorial features a striking black granite fountain with the names of the astronauts inscribed on it, as well as a series of plaques honoring each individual who lost their life in the line of duty. Visitors can also take a moment of silence in the nearby reflection pool, which provides a peaceful space for contemplation and remembrance. The Astronaut Memorial serves as a poignant reminder of the risks and rewards of space exploration, and the courage and sacrifice of those who have given their lives for the advancement of human knowledge.
3. Air Force Space & Missile Museum: The Air Force Space & Missile Museum is located just outside of KSC and offers visitors a chance to learn about the history of missile development and space exploration. The museum features exhibits on everything from early rocket prototypes to the latest space technology. Visitors can take a tour of the museum and learn about the different types of rockets and missiles that have been developed over the years. They can also see actual spacecraft and satellites that have been used for space exploration. One of the highlights of the museum is the Rocket Garden, where visitors can see a collection of historic rockets and missiles up close. In addition to the exhibits, the museum also offers educational programs and events throughout the year, making it a great destination for families and space enthusiasts alike.
4. Cocoa Beach Pier: Just a short drive from KSC, the Cocoa Beach Pier is a popular destination for tourists and locals alike. This historic pier dates back to 1962 and offers stunning views of the Atlantic Ocean. It's a great place to relax, soak up the sun, and enjoy some of the best seafood in the area. In addition to offering a picturesque dining experience, the Cocoa Beach Pier has plenty of activities to offer. Adventure seekers can take surfing lessons, rent a paddleboard or kayak, or try their hand at beach volleyball. Fishing enthusiasts can cast a line off the pier and try to catch some of the local fish species. Visitors can also browse the unique shops, get an ice cream cone, or simply take a leisurely stroll along the pier. With its laid-back atmosphere and ocean views, the Cocoa Beach Pier is a must-visit destination for anyone in the area.
Outdoor Activities
Are you tired of the same old beach vacation? Do you crave something more exciting and adventurous? If so, then our Space Coast Rentals near Kennedy Space Center might be just what you need. In addition to being a great spot for stargazing and watching rocket launches, the Space Coast also offers a variety of outdoor activities for those seeking a little more action.
One of the best places to experience the great outdoors in the area is Canaveral National Seashore. This stunning coastline boasts over 24 miles of undeveloped beaches, dunes, and lagoons. It's the perfect place to escape the crowds and enjoy some peace and tranquility. If you're an avid surfer, then you'll love the waves at Playalinda Beach, located within the national seashore. With consistent swells and uncrowded breaks, it's a surfer's paradise. Beginners can take lessons from local surf schools or rent a board and try their luck on their own. For those who prefer calmer waters, swimming is another popular activity at Canaveral National Seashore. The water is perfect for a refreshing dip on a hot day.
You can also paddle out on a stand-up paddleboard or try your hand at windsurfing. Nature lovers will appreciate the diverse wildlife that calls the national seashore home. From sea turtles and dolphins to manatees and alligators, there's always something new to discover. Take a guided kayak tour to explore the lagoons and mangrove forests and get up close with the local flora and fauna. After a long day of outdoor fun, return to your vacation home in Cape Canaveral, or Cocoa Beach to rest and recharge. Choose from a variety of unique properties, including beachfront villas, and cozy apartments. With amenities like private pools, hot tubs, and fully equipped kitchens, you'll have everything you need to make your stay comfortable and enjoyable. 
Popular Frequently Asked Questions:
What is Canaveral National Seashore?
Canaveral National Seashore is a protected national park located on Florida's east coast near Cape Canaveral and the Kennedy Space Center. It spans across 58,000 acres and features pristine beaches, diverse ecosystems, and a variety of flora and fauna. The park offers numerous recreational activities for visitors, including swimming, sunbathing, surfing, hiking, biking, wildlife viewing, and ranger-led programs. Its unique location and natural beauty make it a popular destination for nature enthusiasts and tourists alike.
What activities are available at Canaveral National Seashore?
Canaveral National Seashore offers a wide range of activities for visitors to enjoy. One of the most popular activities is exploring the park's pristine beaches, which are perfect for swimming, sunbathing, and surfing. Visitors can also take guided tours of the park's diverse ecosystems, including coastal dunes, saltwater marshes, and pine flatwoods. Additionally, the park has numerous hiking and biking trails that offer scenic views of the surrounding landscape. For those interested in wildlife viewing, the park is home to a variety of animals, including sea turtles, manatees, and over 300 species of birds. Finally, visitors can also participate in ranger-led programs, attend educational exhibits and events, or simply relax and enjoy the beauty of one of Florida's most spectacular natural wonders.
Is Playalinda Beach suitable for surfing beginners?
Yes, Playalinda Beach at Canaveral National Seashore is suitable for surfing beginners. The beach offers gentle waves and a spacious shoreline, making it an ideal location for those new to surfing to practice and develop their skills. In addition to being a great location for beginners, Playalinda Beach is also a popular spot for experienced surfers. The beach boasts consistent waves that are perfect for surfing year-round. Moreover, the beach's serene and uncrowded setting makes it an ideal destination for those looking to escape the hustle and bustle of more touristy beaches in the area. Whether you're a seasoned surfer or just starting out, Playalinda Beach is definitely worth checking out.
 What kind of wildlife can be found at the Canaveral National Seashore?
At Canaveral National Seashore, visitors can find a diverse range of wildlife due to its various ecosystems. Some of the animals that can be found at the national seashore include sea turtles, manatees, and over 300 species of birds. Other wildlife that may be spotted in the area are alligators, dolphins, raccoons, and various types of fish and crustaceans. The national seashore is a wonderful place for wildlife enthusiasts and nature lovers alike. The diverse range of animals found in the area makes it a popular destination for tourists from around the globe. In addition to the animals mentioned earlier, visitors can also catch glimpses of bobcats, coyotes, and even the occasional black bear. The seashore is a great place to observe these creatures in their natural habitat, but it's important to always keep a safe distance and avoid disturbing them. With so much to see and explore, the national seashore is truly a treasure trove of natural wonders. The park's rich biodiversity makes it an excellent destination for nature enthusiasts and wildlife photographers.
 Where can I take a guided kayak tour at Canaveral National Seashore?
You can take a guided kayak tour at Canaveral National Seashore with the help of the park's official concessionaire, A Day Away Kayak Tours. They offer several different guided tours that explore the diverse habitats found within the park, including mangrove tunnels, saltwater lagoons, and more. The tours are led by experienced guides who provide participants with information about the park's ecology, history, and wildlife. Whether you're a seasoned kayaker or a beginner, there is a tour to suit your needs and interests. To book a tour, visit the A Day Away Kayak Tours website or call their office directly.