How to Celebrate Thanksgiving in Cocoa Beach, Florida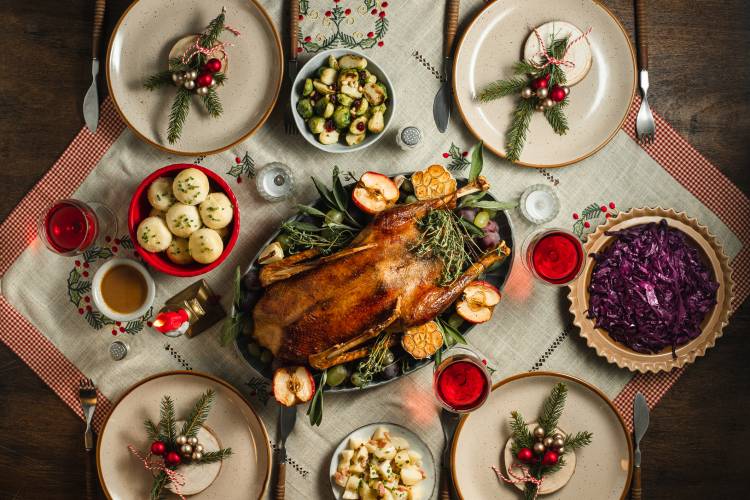 Thanksgiving is right around the corner. Are you ready?  
For those of you planning on lazing out at home on Thanksgiving, choosing to celebrate in Cocoa Beach, Florida is a surprising option worth considering! Thanksgiving in Cocoa Beach is particularly a cherishable experience since this beautiful Florida go-to spot offers some exciting activities all-year-round. Some of the takeaways are surfing, kayaking, golfing, Cocoa Beach Pier, the Kennedy Space Center, and diverse Kissimmee and Cocoa Village events.  
On top of it, the temperature around Thanksgiving day is typically around 60 to 70 degrees Fahrenheit, so you can celebrate the day in a warm and breezy environment. These are just one of the perks of traveling to Florida in the wintertime.  
Thanksgiving Dinners and Events in Cocoa Beach, FL 
Once you've made up your mind about spending the holidays in Cocoa Beach, make sure to book your spot on our website for the most affordable rentals in Cocoa Beach with the best views! For a brief introduction to our family-owned company, you can check out our Cocoa Beach travel guide for more information and resources. Now that you're all set up with your stay in Cocoa Beach, let's move on to the entertainment side of the Thanksgiving holiday fun.  
Entertainments and Events  
Thanksgiving 2020 will be a little different from other years due to the current pandemic. However, there have been new additions to the events this year such as music festivals and breathtaking light festivals. 
Musicals 
The famous Cocoa Beach Art Show won't take place this year, but they have arranged a 3-day long Live Music and Dance party from 27th to 29th of November.  
The Cocoa Village Playhouse arranges a musical every year. This year's they're presenting Little Women: The Musical from November 20th to December 6th. Based on the novel by Louisa May Alcott, they'll portray this timeless story of four sisters striving to make her own voice heard in the world.  
The Titusville Playhouse brings Annie, based on the popular comic strip by Harold Gray, which will run from November 13th to December 6th, 2020.    
Thanksgiving Parades, Marathons, and Turkey Trots 
There is a Thanksgiving parade every year and they're planning on making it extra special this year. The Cocoa Beach Turkey Trot 5K will take place from November 26th to 29th. It starts at 8 a.m. in the morning. The Space Coast Turkey Trot is on the 26th of November, starting at 7 a.m. This one gives the option of running virtual this year as well. Local people say these races bring a healthy start to Thanksgiving day.   
There's also a Space Coast Marathon and Half Marathon on November 29th. Burn off the extra calories from that Thanksgiving meal with this race, which happens always on the Sunday after Thanksgiving.  
There's another parade called Light Up Viera on November 28th. They light fireworks right before starting the parade. 
Lightfests 
There's the Space Coast Light Fest starting from November 13, 2020, to January 3, 2021, at Wickham Park in Melbourne, Florida. The event is a drive-through although some dates have permissions for strolling. There's a string of events arranged all through November to the New Year. 
A new light fest, called Night of a Million Lights, will also take place for 52 consecutive nights on the same dates as the Space Coast Light Fest. There will be 3-million sparkling lights lit every day and both adults and children can stroll through the villages seeing and enjoying the mesmerizing view. There will be complimentary treats, rides, and other sorts of entertainment. A non-profit organization named Give Kids the World arranged it for the first time this year.  
Painting 
The Cocoa Beach and Space Coast art festivals won't take place before 2021, but the painting lessons are available at Painting with a Twist. It'll run through the end of December. Due to the Covid-19 pandemic, you can also take the lessons virtually this year.  
Shopping 
The Historic Cocoa Village Main Street brings an event named "shop small then sip." Taking place from 11 a.m. to 6 p.m. on November 28th in Myrt Tharpe Square (the Gazebo). You must purchase the tickets beforehand. The tickets entitle you to take a stroll around the village, shop at different stores, and get a crowler of beer or a bottle of wine to enjoy at home later. They also have raffle draws and games to win exciting gifts.    
Thanksgiving Centerpiece Workshop 
The RW brand is arranging a centerpiece workshop at the Cypress Grove Estate House. With the instructions from Flowers by Leslie, you can design your Thanksgiving centerpieces with friends and family and take them home. They also provide sweet treats from the Bakers Cottage Cakes. 
Thanksgiving Dinner in Cocoa Beach 
For Thanksgiving dinners, yFou can get fresh turkeys (stuffed, roasted, or smoked!) without ever entering a kitchen. From pies to casseroles, hams to yams, side dishes to desserts, you can find all the Thanksgiving staples at a local restaurant while feeling good about supporting a small business! Although some of the restaurants remain close for the holidays, most are open for reservations.  
Here is a list of restaurants that will be open on the day. You can make the reservations beforehand. Please note, some of these restaurants might not have free schedules due to pre-bookings.  
Pickup  
Dine-in 
The Cocoa Beach Pier also has some wonderful restaurants that serve mouth-watering seafood and thanksgiving meals. The following are our favorites: 
For breakfasts, check out Mulberry Lane Cafe and Causeway Diner.  
Have you made your reservations for the holiday yet? Do not wait till the spots run out! In Cocoa Beach and Florida's Space Coast, spending the Thanksgiving holiday with family near the beach; what could be a better occasion and spot to be thankful for?  
Book your stay here: https://www.vacationcentralflorida.com/vacation-rentals/cocoa-beach