How to Celebrate Thanksgiving in Cocoa Beach, Florida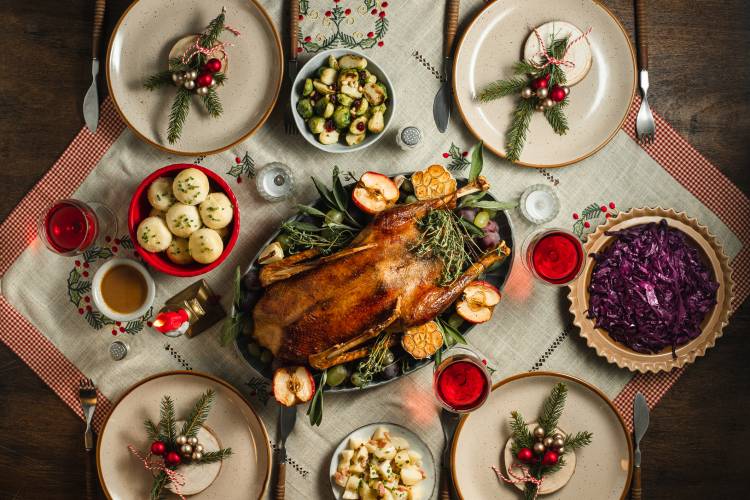 Thanksgiving 2022 in Cocoa Beach: Best Events, Parades, and Thanksgiving Dinners
Thanksgiving is a time for family, friends, food, and gatherings. And what better place to have it all than Cocoa Beach, Central Florida? The city is pulling out all the stops this year to make Thanksgiving special. From a day of joining a thanksgiving parade to a seaside feast, there is something for everyone.
If you're planning to celebrate Thanksgiving 2022 in Cocoa Beach, Central Florida, note some of the events happening during Thanksgiving week. We've listed a few for you to shortlist from--
Thanksgiving Day Parades, Marathons, and Turkey Trots
Participating in a parade with residents from the community and tourists is a great way to get into the Thanksgiving spirit. The Cocoa Beach Thanksgiving Day Parade is one of the most popular annual events in Cocoa Beach. Held on the last weekend in November, it always draws a large crowd. This year's parade will be no different, with family-oriented festivities starting at 8 a.m. sharp on Saturday, November 26th. On Sunday, a turkey trot will be followed by a food drive for the local food bank.
The Cocoa Beach Turkey Trot 5K will occur from November 24th to December 4th, 2022. It starts at 8 a.m. There will be a virtual one as well.
The Space Coast Turkey Trot is on November 24th. This parade is always fun, and they plan to make it memorable this year. There will be food and drink booths, music, and, most importantly, a bunch of turkeys. The event starts at 7 a.m., so be sure to get there early to get the best spot. The race will start and finish at Cocoa Beach's world-famous Ron Jon Surf Shop.
The Space Coast Marathon and Half Marathon will take place on November 27th, 2022.
A few days after the Thanksgiving parades and marathons, there is another parade Light Up Viera Holiday Parade on December 3rd, 2022. There will be a firework display at 6 p.m, right before the parade starts. So be sure to take it!
Art Festivals
 Every year during Thanksgiving week, the Cocoa Beach Art Show creates a festival of diverse art, music, and food alongside demonstrations performed by outstanding artists. This show will run from November 25- 27, 2022. Up to 150 artists and exhibitors from across the country come to this 3-day event, ensuring that people of all ages will have a great time taking everything in! The band Cherry Down will be performing too!
Black Friday Deals
The day after Thanksgiving is traditionally the busiest shopping day of the year, and Cocoa Beach is no exception. On Black Friday, shoppers can find great deals at local stores and malls. In addition, many stores offer special sales and promotions on Black Friday, so it's an excellent time to find bargains on holiday gifts. Cocoa Beach is a great place to shop on Black Friday because of the variety of stores and the relaxed atmosphere.
Some of the stores in and near the Cocoa beach area that offer unmissable Black Friday deals are-
Thanksgiving Feast
Without ever setting foot in a kitchen, you can get fresh turkeys (stuffed, roasted, or smoked!) for your Thanksgiving dinner. You can find all the traditional Thanksgiving mains at a nearby restaurant, including pies, casseroles, hams, yams, side dishes, and desserts. Most restaurants accept booking reservations, with some offering only pickups and some offering dining options.
Whether you want to head to a family-friendly restaurant or one with a more traditional Thanksgiving feast, there is something for everyone.
Here's a list of restaurants where you can order Thanksgiving meals for pickup/dining. Please be aware that some of these restaurants may have yet to have open reservations owing to reservations.
Dining
The Cocoa Beach Pier also has some beautiful restaurants that serve mouth-watering seafood and thanksgiving meals. The following are our favorites:
The Space Coast's restaurants will also be offering Thanksgiving meals. Here's a list of Space Coast's top restaurants offering yummy servings:
Pickup
Want to enjoy a Thanksgiving dinner from the privacy of your home? Check out the following list of restaurants serving takeaway meals for Thanksgiving.
Final Words
So, have you booked a rental for your Cocoa Beach Thanksgiving yet? Book ASAP because the spots run out pretty fast. Choose your Cocoa beach vacation rental, or you can also explore all of our favorite vacation rentals in Central Florida. The choice is yours, but be on time to book your spot!