Top 9 Springs to Visit in Central Florida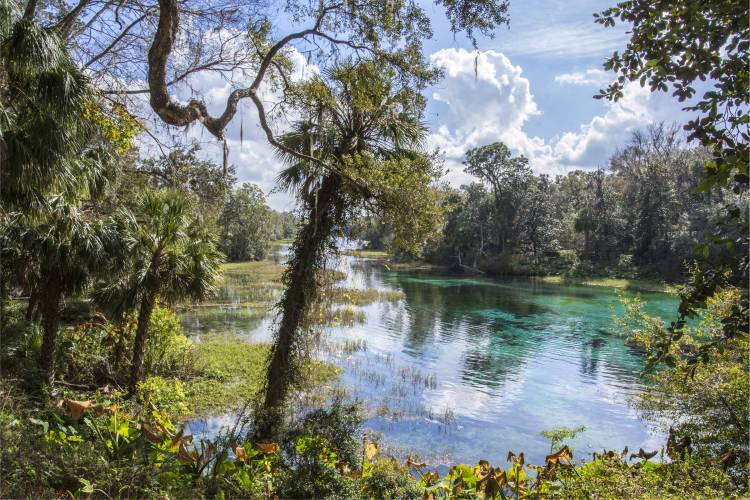 As Florida's dry season approaches its end, you can start planning your next plunge. Dipping not only your toes, but also your hands, feet, and whole body in the springs of Central Florida brings back your summer-self that was long asleep in your winter body.
Aside from Central Florida's world-famous theme parks, there are many more options for refreshment. The 72-degree water flowing through the springs of Florida will replenish your soul. With the thought of visiting the springs, comes the question, "Which one?"
Florida has over 700 springs and choosing just one might get a bit tough. So, check out our list of the best springs in Central Florida; one of these might click with you! If you're coming from another state or country, don't forget to book your resort or holiday rental.
Blue Spring is the largest spring on the St. Johns River. It has an extensive underwater cave system. You can scuba dive, snorkel, swim, and go tubing here during the summer season. In the winter season, manatees often gather at the Blue springs. Hence, the authorities close all the water activities for the winter season. However, they allow visitors to come and watch the manatees. Kids can hike from the starting point all the way to the St. Johns River. Also, you can visit the historical Thursby House after the water activities/hiking.
Weeki Wachee has two parts. One is a swimming hole and the other is a theme park. This state park is famous for its underwater mermaid shows and a submerged theater. They have a beach area at their Buccaneer Bay water park. Families with kids can enjoy outdoor activities like water slides, kayaking, canoeing downstream here. The sparkling water and sandy underneath make the Weeki Wachee springs iconic for scenic beauty. Enjoy watching manatees, turtles, various birds, and spotting bald eagle's nests when you go kayaking or canoeing in Weeki Wachee Springs.
The Ichetucknee Springs, at Northwest of Gainesville near Fort White, is more like a camping place for teenagers and adults. The calm and serene ambient of Ichetucknee Springs is ideal for people looking to have a peaceful day. Take your tube and enjoy floating in the river all by yourself. The trees in the surrounding and turtles under the water will soothe your nerves and calm your soul. The perfect summer activity, isn't it? They keep the water activities open from Memorial Day through Labor Day weekend. 
Ocala National Forests's Silver Glen Springs is one of the most beautiful natural springs. The green-blue water surrounded by cedar, pine, and oak trees looks heavenly from the banks. And, when you go swimming or canoeing, you'll spot fishes swimming under the translucent water. These fishes come to this spring from Lake George. Bring your snorkeling gears to watch the fishes around you when you swim. They have kayaks and canoes for rent. A family outing having lunch beside the spring water will be lovely! They have picnic tables set up and grills for the visitors' convenience. You can pack up your food and enjoy the ambient there till afternoon.  
Silver Springs is famous for its glass-bottom boat tours. This way, you might get to watch turtles and fishes swimming underneath the boat. The greenish-blue water and the bottle-green trees around you, altogether makes the place look magnificent. They don't allow visitors to swim in the water. There could be alligators in this one. They have an on-site museum for the visitors to learn about the place's history. Don't forget to visit the cracker homestead and the pioneer settlement of the 19th century (re-created). Moreover, The sunset view from Silver Springs is breathtaking. 
The Madison Blue Springs state park takes you to another world as soon as you enter the park. The wooden steps, blue translucent water, rocks, and green trees make this spring appear as something magical. This one also has an underwater cave. Pine trees stand lined beside the river. You can float in a tube or swim in the cave. Renting a canoe and watching the manatees swimming underneath the blue crystal water will add new dimensions to your Florida trip. Have you added Madison Blue Springs to your bucket list already? You're in for a win-win trip plan! 
Swimming, boating, snorkeling, scuba diving- anything you want to do, you can in Alexander Springs. The 300-foot water basin is perfect for wading and swimming. The turquoise water with lilies here and there looks otherworldly. Watch colorful fishes swim in the crystal clear water and turtles moving through the lilies. Alexander Springs is a great place for family activities. You can also hike along the surrounding trails. Mountain climbing, camping, fishing, and stand-up paddling is also available.
Juniper Springs is one of the major springs of the Ocala National Forest. The emerald green water, surrounded by stairs, stone bridges, and gigantic trees is picturesque. Hence, it has always drawn visitors, nature enthusiasts, and photographers. The stone footbridges, waterwheel, and wooden mill are almost a century old. They also have a historical exhibit center for the park guests. You can swim, kayak, or canoe in the springs and enjoy the scenic lush foliage all around you. 
The fourth-largest spring in Florida is the Rainbow Springs. It originated from the beloved Rainbow River—the natural swimming pool of Florida. The main waterway has a roped-off swimming area with a dock and stairs. Tubes, snorkels, and kayaks are available for rent. They have arrangements for picnics as well. Turtles swim around the water. You can swim with them or watch them from a kayak. The moss-covered Cypress trees, butterfly park, and artificial waterfalls add more options to your merriment. Hiking in the trails might get you lucky enough to spot squirrels, deers, etc. You can also paddle through the river.  
Final Words 
Now you know Central Florida is more than its theme park magic; it's also the homeland of multifarious fun outdoor activities. So, pack up your gear and find your choice of the best springs to visit in Central Florida. If you're looking for rentals that have it all, our resort vacation rentals near Disney and Cocoa Beach allow guests access to amazing amenities like community pools, clubhouses with snack bars, fitness centers, and more.  
Want more options? Browse our Disney vacation rentals or Cocoa Beach rentals to find the condo or home that fits your family's needs. We can't wait to welcome you to Florida!