Top Benefits of Booking a Vacation Rental vs Hotel Room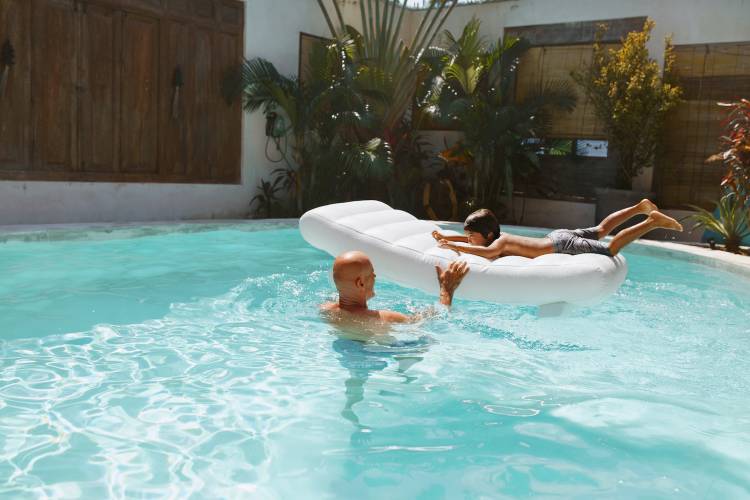 When it comes to choosing a place to stay on vacation, you want to find accommodation that's affordable, clean, comfortable, in a great location, and comes with top-notch amenities. 99% of the time, a vacation rental will offer all of these things plus more. Once you've discovered the advantages of vacation rentals over hotel rooms, it'll be easier for you and your family to choose between the two. You'll find that extending your vacation dollar is just as pleasurable as lounging by your private pool.
Staying in a hotel room is preferable for a few days and small party size, but what if you want to stay longer and have more guests than the hotel room can accommodate? What about family gatherings, parties, or holidays? When traveling with a large group, most hotels only allow a limited number of people per room. However, a vacation rental is the best alternative for a comfortable vacation of an extended stay of more than three days and a party size of four-plus guests.
Here are nine benefits of booking a vacation rental over hotel rooms-
1. Saving money
Hotels are usually more expensive than vacation houses, especially with hidden fees from third-party bookings. The costs might quickly escalate if you have older children or a large family and require two rooms or an expensive suit. While all vacation rentals aren't inexpensive, they almost always offer square footage for your money than similarly priced hotels in the same area. In addition, when you consider the expense of dining out three times a day, a holiday home with a fully equipped kitchen might be a far better deal.
Using a vacation rental to travel with a large party is cost-effective. If you can stay in a rental home that can accommodate your entire group, why book numerous hotel rooms?
Vacation rentals can provide more space for your money than comparably priced hotels in the exact location.
2. Getting more space
Most hotel rooms are smaller than vacation rentals, and most vacation homes are complete and furnished houses, condos, or apartments, depending on your preference. Still, a hotel room is simply a room, barely enough space even for your luggages. A vacation rental may be more convenient because you have exclusive access to more than just a room.
The amount of space available in a hotel room is limited. The space serves as a bedroom and a living area (and sometimes a kitchen). Unless your vacation rental is a studio unit, there will be designated areas, such as a living space, bedrooms, and kitchen. You'll be able to hang your clothing and stash your baggage in the closet at ease.
3. Having more privacy
While hotels generally offer a more comprehensive range of amenities than most vacation rentals, it is always shared with hundreds of other guests. Cleaners are arriving and leaving, thin walls allowing to hear neighbors, elevator and HVAC noise, and busy amenities are all to account for before booking your vacation. Fortunately, these problems aren't present in most vacation houses.
Don't want to be kept awake at night by the sounds of your hotel room neighbors or corridor guests? For most solitude, book a holiday rental! You'll have the entire house to yourself if you rent a complete home so noisy neighbors won't bother others.
You are free to come and go as you choose without interference from reception. Your car is safer within your garage than in a large parking area for which you paid more money.
4. Cooking for yourself
You will have access to a kitchen with pots and pans, plates, utensils, and cleaning supplies. You won't have to splurge on eating out every meal or be limited to particular dining hours when you have a kitchen. Instead, you'll be able to purchase groceries and prepare your favorite meals.
Most of us will dine out once or twice a week, but it's good to be able to prepare coffee and breakfast in the morning or a quick snack when you're hungry. Your food will be healthier, less costly, and more convenient if you make it yourself. When you go out to dine, you'll be able to treat it like a special occasion.
5. Comfort of home
Vacation houses commonly feature everything you'd find in your own home. Full-size appliances, dishes, books, games, washer/dryer machines, beach or pool items, and more for guests to use freely. These extras may make your stay much more pleasant, especially if you're traveling with your family for an extended period.
6. You can live like a local
When staying in a holiday rental, You'll come across local parks, swimming pools, hipster coffee shops, and extraordinary sights that tourists won't be able to find. Living in the neighborhood allows you to uncover hidden gems that you wouldn't see if you stayed in the city's tourist zoned districts. Additionally, rental owners are frequently excited to share their favorite local tips, including activities, restaurants, or not-to-be-missed out-of-way locations. The possibilities are endless.
7. Travel in large groups
Sure, you love being with your friends and family 24/7, but everyone needs some space and alone time. Nothing is more inconvenient than stumbling over each other (and each other's bags) in a cramped place. Another factor to consider is proximity. When staying in a hotel, you're not necessarily assured rooms near each other, so you'll have to spend extra time organizing where and when you'll meet. You're all together under one roof in a vacation rental, yet there's plenty of room to relax and do your own thing.
8. Enjoy private amenities- same as your home
When you book a vacation rental, you can choose from homes with private swimming pools, hot tubs, saunas, game rooms, and even home theaters. Plus, having one of these luxuries to yourself means you'll have more room to enjoy it; whether you're splashing, soaking, or watching a movie with the family, this intimate moment can create a lifetime of fond memories.
9. Vacation rentals are often pet-friendly
Some hotels will accept your four-legged family member but finding one might be difficult. Pet rooms are often more expensive and located in less popular building areas. However, the rooms themselves are not usually as well maintained as the rest of the complex.
Pets are welcome to participate in the family fun when you stay at a vacation rental! There's no need to search for a pet-friendly hotel (which can be pretty tricky). Pets are welcome at many vacation rental homes for a nominal deposit or charge. You could even have a rear yard for your dog to romp if you rent a single-family house.
With pet-friendly vacation homes, you can save money on a dog sitter and spend quality time with your entire family while on vacation. You and your dog may play fetch in the yard and snuggle up together in the evenings if you live in a pet-friendly house.
Final Words
When it comes to comfort, peace, and privacy, many people discover that renting a privately owned vacation rental home, villa, or condo is the best option, both in terms of comfort and cost. Booking a vacation home allows the entire family to experience a sense of oneness while also breathing space when needed. For your next trip to Central Florida, consider the advantages of staying in a vacation rental rather than a hotel room.