What does a Full-Service Vacation Property Management Company Do for You?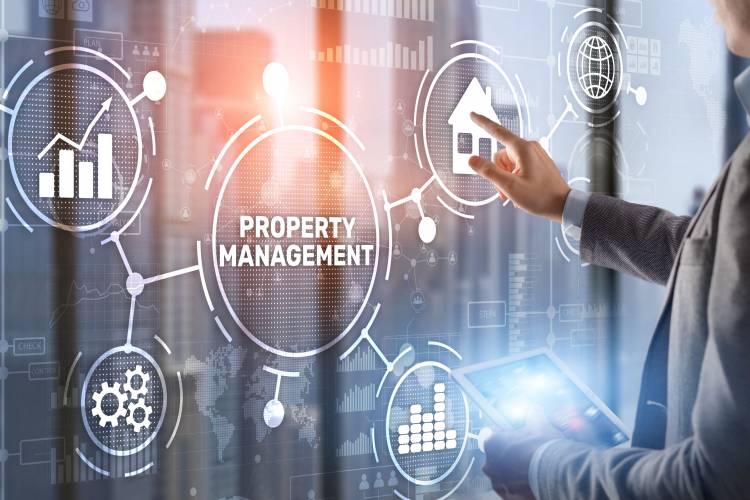 What You Should Expect from Your Property Manager
In the online search results, you will see a lot of listings for property management companies, full-service rental agencies, vacation rental managers, and full-service vacation property management in Kissimmee, and Cocoa Beach. There are many vacation rental managers in Central Florida to choose from. Some only handle the physical property and cleanings, some only handle the rentals, and others are "full-service" and do it all. There is no singular definition for any of these terms, so you need to do your homework to make sure the firm you choose is truly "full-service". If that is what you are looking for.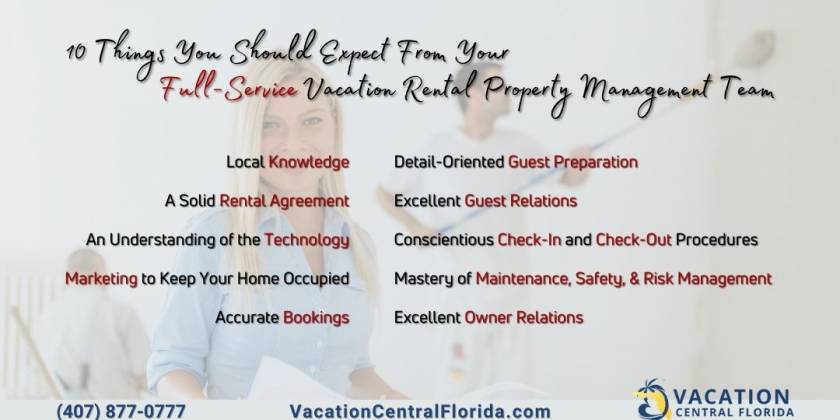 Local Knowledge
It is exceedingly difficult for someone to effectively manage your rental property if they are unfamiliar with the local area and its customs, services, and laws. The leadership of your Central Florida vacation home management company should be familiar with the area. This includes having been in business for several years with a track record of success. 
To effectively market your property, your management firm must have thorough knowledge of the range of rental properties in the area and keep that knowledge current. They need to be able to follow trends in rental fees, amenities offered by competitors, and the changing tastes of the renters they need to attract.
To protect you, they must also be well-versed in the state and local laws that affect rental properties. It is important that regulatory changes are monitored and implemented, as well as a detailed understanding of the requirements for collecting, reporting, and submitting money for the local County and State of Florida Taxes.
A Solid Rental Agreement
The rental agreement form presented to the guests who stay in your property should be adequate to protect your interests. A company with a strict rental agreement in place. Gives owners the peace of mind needed while they are away. You will know that the vacation rental manager has your best interests at heart.
The contract should specify the address of the property, the rental fees, and the maximum number of guests that can stay in your home. It should also list the reservation start and end dates, and an accounting of deposits paid at the time of booking and required at check-in.
There are also legal disclosures that should be included with the agreement, depending on the property and local ordinances.
An Understanding of the Technology
It is the 2020s, and tech rules our lives - and the vacation rental industry. Your full-service vacation property management in Central Florida should be masters in the technological tools of the trade.
One of the most obvious tools is a camera that shoots high-quality photographs. As soon as they have access to your vacation rental home, your property management firm should be taking photos of the property and surrounding area that put your home in the best light.
The next most obvious tool is software used for listing your property and booking guests online. Your property manager must be able to keep the account logins secure, understand how each site or app works, and know how to utilize a channel management tool to sync booking calendars and prevent double-booking.
Marketing to Keep Your Home Occupied
To keep your home occupied when you are not using it, your property manager must stay current on the best ways to market your property, as well as the costs involved. They cannot simply list your home on their website next to a fuzzy picture and hope for the best.
They should start with a competitive rental rate, write a captivating description of the property, and select the best photos to make your house shine. They need to describe your home's amenities, tourist destinations close by, and special services, or grocery delivery.
The property management company can create a page to highlight your property on their website, but the most important next step is to get your home listed on popular booking sites like Booking.com,  FlipKey, and Vrbo, Expedia Group, etc. The best management companies will have you on as many websites that make financial sense for your home at any given time. Make sure your Kissimmee, Cape Canaveral, or Cocoa Beach vacation rental manager has a reputable brand behind them. Someone who constantly provides amazing value to guests and owners. Not only is it important to market your vacation home on the large websites. Choose a company who is also investing in their brand, website, software, and creative ways to drive traffic to their own website as well. 
Be aware of management companies that price out your home too low. Some companies will want to fill your unit up no matter what and take bookings way too far in advance. The only person that helps is the management company and their cash flow. So, making sure you are aware of this at the beginning. Will help you avoid leaving money on the table. Ask questions about their marketing and pricing strategy. Most likely, if they give you a firm nightly price for a home. They are not doing their job well. 
You want to be sure that your management company NEVER sets rates and forgets about them. This is called static pricing and a definite way to prevent your home from reaching maximum occupancy and revenue. The vacation rental industry is an annual revenue and occupancy game. Setting one rate for a certain period will only hurt you in the long run. You want to find a management company who constantly changes rates. Someone who is constantly looking at what the market is telling them. To make sure your home is priced well and competitively.
Anyone can easily fill up the peak rental and travel demand seasons. That is the easy part! You need to find someone who can provide consistent cash flow the entire year. Look for someone who has a long track record of off-season bookings. Do not accept the common excuse of the "slow season". There should never be a slow season if they are doing it right!
Not only does your vacation rental management firm need to know how to create these listings, but they must also understand the way the fees for these sites work so they maximize your exposure and keep costs reasonable.
Detail-Oriented Guest Preparation
Your vacation property management services must include the preparation of your property so it will delight arriving, weary travelers. It should be immaculately cleaned according to a custom checklist for your property, and properly stocked with linens, shampoo, soap, and a welcome pack to get them started. Cleanings need to be thoroughly checked to be sure the property is properly disinfected and necessary cleaning practices are taken. Your property manager should be passionate about providing a top-notch vacation rental experience. It starts with the first impression when a guest walks into your vacation home.
Excellent Guest Relations
It goes without saying - your property management team represents you and must be able to interact with guests while maintaining a happy, vacation-spirited tone and demeanor. Each guest should feel that their needs are a top priority.
If a guest has a concern or complaint, your representative must be able to listen and understand the situation, communicate clearly, and manage expectations. No guest issue should become a nightmare vacation story! Proper communication and guest satisfaction should be priorities during a guest stay. You are in the hospitality business and people want to feel they are taken care of. Feedback is one of the most important tools you can use to better improve your guest experience. Getting feedback from your guest's first-hand experience will make your home better for the future. Do not choose a property management company who cannot take constructive criticism. Find someone who is willing to work every day to make the guest experience better.
Conscientious Check-In and Check-Out Procedures
At the point that a reservation is finalized, the rent should be collected. The guest should be informed about the portion of the payment that is refundable (or not), as well as other details about their responsibilities during their stay.
Your property management company should insist on payment of the rental fees and deposits upfront (as part of the online booking process) before a guest can secure a reservation. Actual money due varies between companies and how far out until the arrival date. When a guest arrives, all deposits and rental fees need to be collected and accounted for.
On check-in, your property manager should be clearly communicating the house rules and be sure the guest understands their responsibilities while using your home. A written copy should be provided to the guest with the rental agreement. Community rules, security gate procedures, and any other vital information should be communicated to guests' multiple times before arrival.
When a guest is ready for check-out there should be a damage inspection of your home. If anything is damaged or missing, a suitable amount should be taken from the guest. You want to make sure you have a vacation rental manager who is always available and always in your home. We believe one of the most important items for successful property management is having multiple eyes on your property. You need to have someone always checking before guest arrival, after guest arrival, after it is cleaned once a repair is done. The more times your vacation home is checked on. The better chances of catching anything that needs immediate attention, or something that is out of place.
Mastery of Maintenance, Safety, & Risk Management
Airbnb, as well as some other booking apps, have a "tenant profile" feature. This is basically a place where your property manager can read the reviews that other rental property managers have posted about their guests. They can take the reviews into account when deciding to approve the guest's booking.
Your vacation rental agency should be well versed in safety procedures and carry necessary (and up to date) licenses and insurance. They need to have procedures for licensing renewals. Not only of their business license, but also each unit's County and State licenses (even City if required).
Your property manager is responsible for all preventive maintenance, repairs, and renovation of your property. They also serve as the "boots on the ground" to troubleshoot problems and mobilize licensed contractors to respond when needed. Make sure your property manager has the necessary contacts to provide you with whatever you need for your vacation rental.
Excellent Owner Relations
Last, but certainly not least, your vacation rental property manager must communicate with you about your property in a clear, transparent manner. You should have a rapport with them, and expect regular reports regarding your rental income, expenses, and how the home is performing compared to the competition.
You can give instructions on how and when you want to be contacted. Some owners want to be notified 24/7 before repairs are carried out, and others are happy to find out after the fact. You can set a dollar amount for repairs that can be done without pre-approval from you, by putting funds in a deposit account the property management team uses to cover repairs.
If you have never hired a property management company for your vacation home, or if you hired a firm that does not provide the full range of services described above, contact us. At Vacation Central Florida, we put our owners and guests first. We have built a transparent and simplified system that works. With a low cost high-occupancy model for our owners. Vacation rental management should not be difficult, or a burden for an owner. We believe in providing the best vacation rental management experience for our owners and guests.