Book Direct Guest Education Day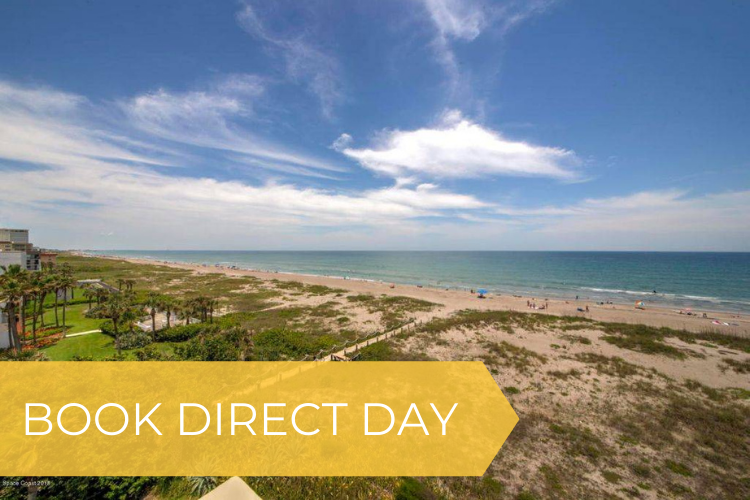 Planning your Central Florida vacation involves finding the perfect rental. There are many things to consider with booking a vacation rental - price, space, location, and much more. We're here to help you find the best vacation spots in Central Florida.
#Bookdirect Guest Education Day is here. This day teaches the guests how they can make their bookings more time and cost-effective. There are many benefits of booking directly with Vacation Central Florida. We have a long and extended list of vacation rentals that any kind of traveler can fit into their budget. You'll find rentals near the world-famous theme parks, Kennedy Space Center, and many more exciting places to stay!
Why Should You #BookDirect? 
The goal of this day is to help visitors find the perfect place to stay without any hassle. Booking through third-party websites has many downsides. Instead, you can book rentals directly through
vacation rental providers
and independent hotel owners. And the benefits go beyond the best booking rate:   
1. Saving Money
The biggest benefit of booking through the
Vacation Central Florida
website directly is that you get the best price guaranteed on your
Florida Rentals
whether you choose to stay in a
Disney vacation rental
or a
Cocoa Beach vacation rental
. You can also find other
vacation rentals in Central Florida
via our website. By booking directly, you can avoid paying the extra fees that are usually associated with third-party websites. Use those extra savings to book a larger property, or for spending it on vacation activities to make special memories with family and friends.  
2. Local Expertise 
Want to know the best local spots around town or hoping to experience Kissimmee and Cocoa Beach like the locals do? Our passionate local team members are experts in all things Central Florida. When you stay with us, you'll have access to our team of Central Florida experts to help you plan the vacation of your dreams. Central Florida vacation rental managers association will also be at your assistance for any of your inquiries.  
3. Plenty of Vacation Rental Options 
Many third-party websites have incomplete lists of rentals. Some eliminate the cheap rentals. Some miss the best ones. If you #bookdirect from the vacation rental sites, you get nearly all the options.
Searching directly through our website will allow you to see all of our Kissimmee vacation rentals and Cocoa Beach vacation rentals that we offer. Choose from oceanfront rentals in Cocoa Beach or search for a Kissimmee rental with a private pool. You'll have access to our list of vacation rentals and 24/7 support from our team.
You get a long list of options to optimize your travel plans and fit your budget. Whether you want a lowkey family villa or one with a private pool, let us know. We give you many options to choose from! We don't only manage your rental and act like we've done our part. We provide travel guides, suggestions, and full-time assistance and support throughout your visit.
With us, you'll find the best Central Florida vacation destinations with detailed travel guides. We have all kinds of rentals listed on our website. You'll also find we have partnerships with local attractions and offer discounted tickets for theme parks and other recreational places in Central Florida.  
4. Better Assistance
Since the vacation rental managers are local people of the area, you can be sure about getting the maximum assistance for your visit. They can help better with the dates, expenses, any special requirements, etc. that third-parties cannot provide.
If you have any special requirements, such as bringing someone who needs mobility support, the rental managers can help you find a rental with special accessibility features. You won't get this service with third-party rental finders. Offers provided by hotels and rentals are often not available on third-party websites. You won't face this problem if you book directly through the vacation rental providers. 
5. Transparency Before, During, and After your Stay
Book with a brand you trust! Get all of the information you need upfront. That way you know exactly what property you're staying in. What the exact price will be, or what you need to bring so that you have the absolute BEST vacation. Not only does booking direct support local vacation rental management companies. You get to book with a longstanding brand (like Vacation Central Florida) that has been in the industry for over a decade and a half. We love giving advice and travel tips ensuring that when you book with us. You are receiving the best customer service and quality that you trust. Speak directly to the local experts! When you call us- speak directly to the people in charge. You don't need to wait in line to speak with a customer service representative!
 Start Planning Your Kissimmee or Cocoa Beach Vacation Today!
Now that you're aware of the benefits of booking directly with Vacation Central Florida, it's time to start planning your vacation to Kissimmee or Cocoa Beach! Find exciting Central Florida vacation ideas. Browse over 60 Central Florida vacation rentals or contact us to speak to the experts! #BookDirect and have a nice trip!