Top 20 Family-Friendly Activities for Summer Break in Central Florida, 2022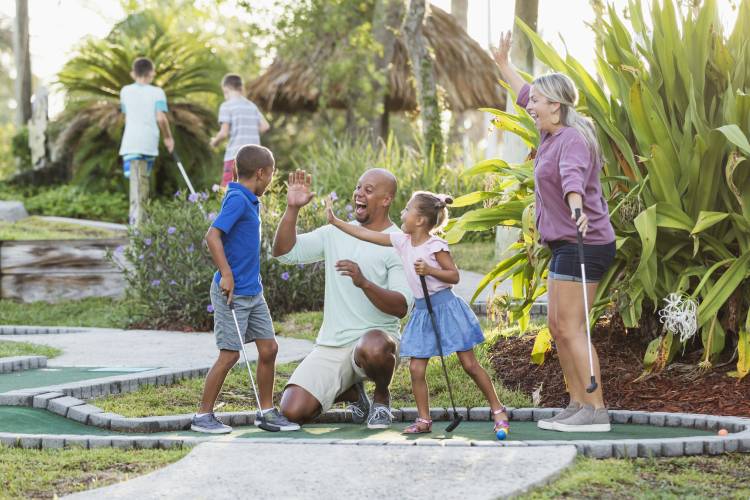 Central Florida is known for its year round of fun, family-friendly activities. Theme parks, watersports, beaches, natural springs and wildlife makes this place one of the top summer break destinations. You can spend weeks exploring all the fun things to do in Central Florida for families — beyond just Universal and Walt Disney World.
If a trip to Central Florida isn't in the cards this summer, but you still want to get there soon, your timing just might be perfect. Here is a list of 20 activities you should check out this summer with your family!
Known as the "town built by Disney," Celebration, Florida is a terrific place for its hometown feel. You can walk around the roads, bike ride, and have lunch with family. You can rent bikes to ride through the quiet streets or along the scenic waterfront and winding trails. Children can use the town fountain for splashing on the hot summer days. And the best part is- it's completely free!
The Icon Park at International Drive is a great place to visit on your summer break. The 400-foot-tall Ferris Wheel at Icon Park will give you a broad view of Orlando. Arcade games, park rides, restaurants and bars, shops, and boutiques make this place wholesome for families.
If you are searching for a fun indoor activity for kids and adolescents in Orlando, check out the Escape Effect! This award-winning escape room features four exciting thematic escape games that kids and teenagers will enjoy.
The Escape Effect Room is a fun family activity to dive into the fascinating theme and solve the clues to escape. It is a delightful experience for kids, particularly on one of Florida's hot summer afternoons.
Dezerland Park is Central Florida's largest indoor amusement park, measured at 800,000 sq ft. Go-Karting, bowling, ax-throwing, and many other exciting activities are available for families with kids. Try not to miss visiting the trampoline park, riding in the bumper cars, and playing a mini-golf game to end the day filled with thrill.
The Kennedy Space Center is one of the top places to visit with kids in Central Florida. The Kennedy Space Center Complex offers so much to discover! The displays are separated into Mission Zones based on the chronological period. The Kennedy Space Center is both instructive and entertaining, with attractions such as the Space Shuttle Atlantis, interactive displays, and the opportunity to meet a real astronaut.
You can even get an exclusive tour of Space X's launch pad and see rockets launch. The Kennedy Space Center is a must-see for every aspiring scientist or space lover, and it is one of the best Central Florida area activities for kids.
An airboat ride at Boggy Creek Airboat Adventures is another family-friendly's top suggestion for fun activities to do in Central Florida. In the Central Florida Everglades, you'll enjoy an airboat ride amid mossy cypress swamps. This all-inclusive fun activity is merely a short drive from Orlando. Including: visits to a Native American village, sifting through a diamond mine, BBQ meal, and more.
The airboat journey is spectacular because you can witness alligators peering up through the swamp foliage.
A summer break in Central Florida will be incomplete unless you visit and swim in the crystal clear waters of Central Florida's springs. You can also go kayaking, hiking, trekking, and canoeing with the kids. Make sure to check out ourtop list of 9 nine natural springs to visit here.
A great way to escape the Florida heat will be to head to the ice and catch a Solar Bears Hockey Game. iFly Indoor Skydiving
Experience the free-fall sensation of jumping out of a plane while remaining safe inside the vertical wind tunnel in iFly Indoor Skydiving. Don't miss this sixty-second experience which will live through a lifetime!
Are you a fan of entertaining music shows? The Blue Man Group is a family-friendly show that combines humor, drama, and live music to keep you amused all night.
The Westgate River Ranch Resort & Rodeo is the perfect place for a family-friendly Central
Florida summer break vacation. For guests to relax, they have cabins, teepees, wagon stays, glamping, and camping options available. There are plenty of entertaining activities like horseback riding, rodeo, fishing, and more for the whole family.
WonderWorks is an indoor amusement park that combines entertainment and education to make science fascinating. Create massive bubbles in the Bubble Lab and feel the might of a hurricane in the Hurricane Shack.
You may also ride the Astronaut Training Gyro and participate in various science-related activities. WonderWorks is a fun activity for kids and teenagers in Central Florida.
Central Florida's Water Parks for Summer Break, 2022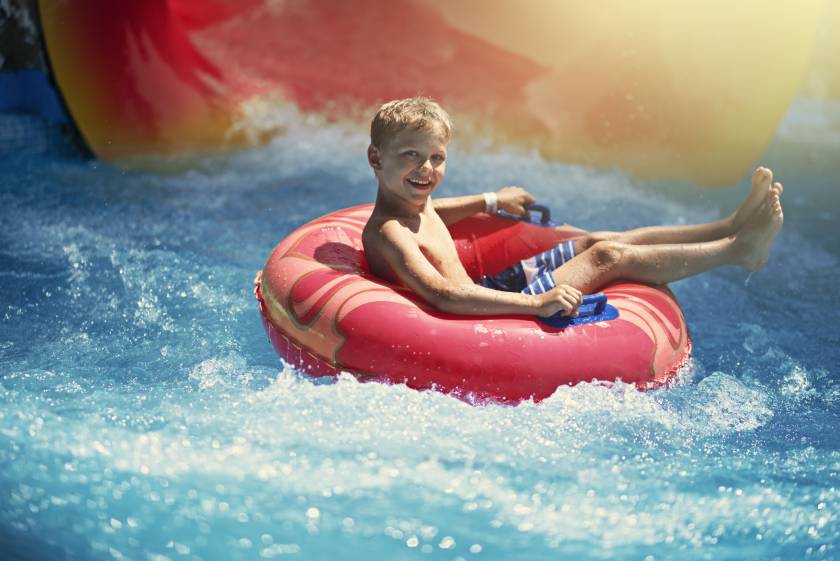 Summer break calls for water rides and watersports! So, here's a list of water parks in Central Florida for your summer escapade.
Universal's Volcano Bay is the ideal spot to cool off in the hot Florida heat. Slide through the water slides and rent a cabana to relax. Dining options are also available so that your recreation is complete!
Learn about the legend of the whirlwind storm at Disney's Typhoon Lagoon Water Park! This beach-themed water park is a must-go for a summer break vacation in Central Florida. The raft rides and the Crush 'N' Gusher water coaster will be a hit with your youngsters. The four-person excursion at GangPlank Falls is suitable for the entire family. For hot summer days, visiting Disney's Typhoon Lagoon is an attraction everyone will love.
The AquaPark at Orlando Watersports Complex is a 10,000 sq ft inflatable water park where kids and adults can climb, jump, slide, and splash on over 40 obstacles. You can do wakeboarding, waterskiing, tubing, and other watersports at their cable park. They have a summer camp which is great for a summer break!
Walt Disney World's Blizzard Beach Water Park has plenty of rides, including activities for toddlers. The Summit Plummet, the country's fastest and highest free-falling slide, is waiting to set you off from the summer heat. Pre-teens can go tubing in the Runoff Rapids or attend Ski Patrol Training Camp.
Aquatica is one of Central Florida's top waterparks and a terrific place to take the kids on a hot Florida day! The splash zone- Walkabout Waters, dual racing water slides called RipTide Race to Roa's Rapids, and cabana rentals are perfect for a summer day refreshment.
Swim with the Dolphins and sharks, go snorkeling, and meet the aquatic creatures in Discovery Cove. The park also has rivers and pools for you to tube through.
Lake Nona Adventure Park features a 1000 ft floating water park filled with interconnected challenges such as a whirlpool, ninja leap, tire run, and more! They also have a delicious bistro cafe onsite to grab a bite.
At Elite Cable Park in Auburndale, you get to waterski, wakeboard, kneeboard, and wake-skate while connected to a cable park system. one on one training sessions are available for first-timers.
Final Words
Have a great summer vacation this year amid all the exciting entertainment in Central Florida. To book your vacation rental, contact us.