Why Cocoa Beach Is the Ultimate Destination for Snowbirds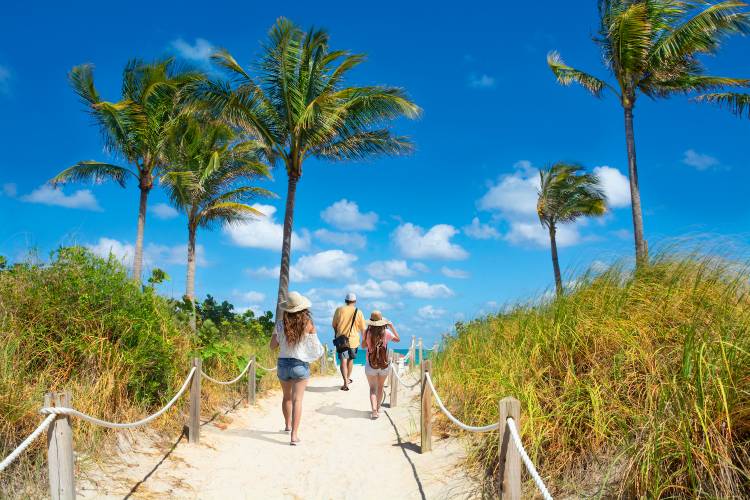 As Winter starts setting in Florida, there's a surge in population in Cocoa Beach, Central Florida. It's due to the snowbirds migrating to this area for the winter months. However, how long they remain in the state separates snowbirds from casual Florida vacationers. Casual vacationers may visit for a few days or during a holiday; however, snowbirds typically stay for months.
People from the surrounding locations, especially those living in the northern states, grow tired of the cold, snowy winters after dealing with the season for half their lives. The cold also causes joint pain and aggravates aches and pains in the elderly. Central Florida's excellent vacation spots don't need snow shoveling, and there are beaches everywhere. There are many more reasons for Cocoa Beach's ultimate snowbird location.
Weather
For snowbirds, the weather is the most significant factor in choosing a destination for their vacation. In recent years, many retirees also have decided to move from colder climates to warmer places, like those in Central Florida. Because of the harsh winter weather in most other states, the warm and sunny winters in Central Florida regions attract snowbirds the most. If you're one of these folks looking for a warm and welcoming place to spend the winter months, look no further than the beautiful city of sand and sun that is Cocoa Beach, Central Florida!
Affordable Rentals
Cocoa Beach has plenty of affordable condos and vacation rentals with modern amenities. There are heaps of beachfront rentals, rentals with pools, pet-friendly rentals, and every other kind of rental a snowbird needs. In addition, family villas within popular vacation communities make the snowbirds feel like a local rather than an outsider trying to pass through the winter months in a foreign land.
There's no better place to spend the Winter season than Cocoa Beach because of the year-round availability of affordable rentals for snowbirds. In addition, because being a snowbird on a budget is easy in Cocoa Beach, the area has become a popular spot among snowbirds from northern states and Canadians.
Low Cost of Living
Although Florida is not the most inexpensive, the living cost here is lower than in most northern states. In addition, the Cocoa Beach area offers plenty of affordable dining and shopping options.
Low Property Tax
For people who like to move to warmer regions for 2-3 months or the whole winter season, It's common to buy real estate in Cocoa Beach to spend their snowbird months in their property rather than renting a vacation home for a long period. Because the property tax is lower compared to other states, it gives an economic advantage to buying a property in Cocoa Beach. The average home price is also relatively lower than in most northern states.
The Beaches
There are plenty of public beaches in the Cocoa beach area, and the perfect 72-degree Fahrenheit water means you can swim and surf even in Winter in the Central Florida region. The water temperature will drop to the 60s in the coldest winter months, which is tolerable for many people. If you have a wetsuit handy, you can use it in the coldest months.
Plenty of Winter Events
Snowbirds are attracted to Cocoa Beach because of the many events, which make their comfortable stay more memorable. When snowbirds start flocking to Cocoa Beach, especially from November to January, there are prominent winter events like
Thanksgiving, Christmas, and New Year. In addition, there will be parades, parties, light festivals, art exhibitions, and many more.
Attractions and Entertainment
Another thing that attracts snowbirds to Cocoa Beach, Central Florida, is the never-ending list of attractions and activities. You can never do it all, and there's something for everyone in Cocoa Beach. It's close to the world-famous theme parks and offers plenty of entertainment.
Some must visit, and must-dos for snowbirds are-
For nature lover snowbirds, Cocoa Beach offers scenic treats everywhere- the Lori Wilson Park, the Merritt island national wildlife refuge, Alan Shepard Beachfront Park, and Central Florida's springs are a few.
Enjoy the sight of watching a rocket launch or learning about the history of the greatest American astronomers at the Kennedy Space Center; who wouldn't love it?
The Westgate Cocoa Beach Pier extends 800 feet into the ocean and offers a scenic view of the beach. The pier has plenty of restaurants, seafood joints, bars, and cafes to enjoy along the dock.
For surfing enthusiasts, an annual Ron Jon Surf Classic takes place each February in Cocoa Beach. Surfing lessons are also available at Ron Jon Surf School.
Downtown Cocoa Village is another hotspot with many exciting activities, shops, art galleries, and food options. In addition, one can explore the history and culture of the town on foot.
There are a lot of museums in the Cocoa Beach area for exploring local historical collections and exhibits. The Dinosaur Store and Museum, Florida Surf Museum, U.S. Air Force Space & Missile Museum, and Kennedy Space Center and Museum offer unique museum experiences, as one can tell from their names.
Cocoa Beach is a hot spot for golfers. Florida has some beautiful golf courses, and the great year-round weather makes it easy to stay out longer during the day to play. There are a variety of Cocoa Beach golf courses you can hit up during your winter stay.
One can enjoy the gorgeous view of cruise ships from Cape Canaveral's cruise terminals. And with the availability of waterfront eateries, the visit gets even better.
One of the best quality community theaters in the country, the Cocoa Village Playhouse is a must-visit place.
Final Words
From the list of perks stated above, anyone can conclude that Cocoa Beach is the ultimate destination for snowbirds. Check out these Cocoa Beach rentals by visiting https://www.vacationcentralflorida.com/vacation-rentals/cocoa-beach if you want to book your snowbirding home. If you need help deciding where to stay, leave us a message, and we'll find the best match for you.