6 Family-Friendly Cocoa Beach Oceanfront Rentals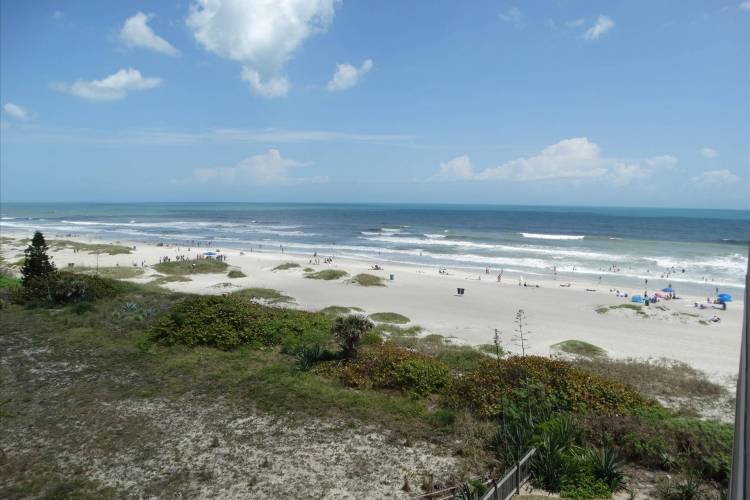 Spring and summer are just around the corner and there's no better way to greet the best seasons of the year than by being by the sea! Cocoa Beach is home to many exciting and family-friendly activities like the Kennedy Space Center and the famous Ron Jon's Surf Shop. Wake up to incredible ocean views and spend the days beachcombing, surfing, or bronzing under the sun. Read on to learn more about our top 6 family-friendly oceanfront rentals for your Cocoa Beach vacation.
Top Cocoa Beach Oceanfront Rentals at a Glance
 Cocoa Beach Towers 46
Richard Arms 10
Ocean Beach Villas Unit 201
The Sands Unit 602
Vista Del Mar 3001
Spanish Main 63
Top Cocoa Beach Oceanfront Rentals in Detail
If you're looking for luxury, Cocoa Beach Towers 46 is it. With 2-bedrooms and 2-baths, this direct oceanfront condo offers stunning views of the ocean and Cocoa Beach Pier. It's easily one of the best views in Cocoa Beach! You'll enjoy amenities like direct beach access and a community pool. Cocoa Beach Towers 46 is the perfect place to make memories with the family.
This direct oceanfront condo unit is a great fit for larger families. This building is one of the closest you can get to the beach. It has been grandfathered-in making it one of a kind! That makes Richard Arms literally seconds from the sand and you can't get any closer! With 3 bedrooms and 2 baths, this unit can accommodate up to 7 guests, allowing plenty of space for the kids and parents to spread out. Take in sunrises and sunsets from the patio, or take a leisurely stroll to Cocoa Beach Pier which is less than a mile away! 
For families or groups looking for a quieter area, Ocean Beach Villas Unit 201 is located in a quaint residential area. This oceanfront Cocoa Beach condo is just 20 minutes away from the Kennedy Space Center and only 10 minutes from the famous Ron Jon's Surf Shop. Catch the space launches from the private patio or be at the beach in no time with direct beach access from this condo unit.
This beautifully decorated 2-bedroom, 2-bath unit is situated right on the beach allowing you and your group direct access to beach fun. Whip up a hearty lunch and enjoy it on the oversized terrace with spectacular views of the ocean. Luxury updates and takes 30 night rentals. This is the perfect property for you and your family to take an extended vacation! Work from your direct oceanfront rental and only minutes to major shops, restaurants, and all the fun! 
Vista Del Mar 3001 is located in the center of all the action. You'll have access to the best dining, shops, and things to do in the Cocoa Beach area. This beachfront condo is a 2-bedroom, 1 bath unit that can sleep up to 4 guests and features amenities like a private pool and ocean views. 
Views galore in Spanish Main 63! Wake up to the sound of the waves and the sight of the mesmerizing blue ocean from the living room and master bedroom in this beautiful unit. This family-friendly Cocoa Beach vacation rental features amenities like a shared pool and sunbathing area, as well as direct access to the beach. Spanish Main has some of the best direct oceanfront views around. This unit being a 3 bedroom is perfect for larger families who want to relax on the beach. 
Book Direct with Vacation Central Florida
Book direct and save on your Cocoa Beach vacation or your Disney vacation! Vacation Central Florida has a wide variety of vacation rentals in Cocoa Beach and Kissimmee, Florida. When you book direct, you avoid paying extra fees that online travel agencies often tack on to your rental rate, get first-hand knowledge, and have access to our full inventory online. Browse our inventory of Central Florida vacation rentals online, or contact us today to speak to a reservationist!