Why Orlando, Florida is the Ultimate Destination for Snowbirds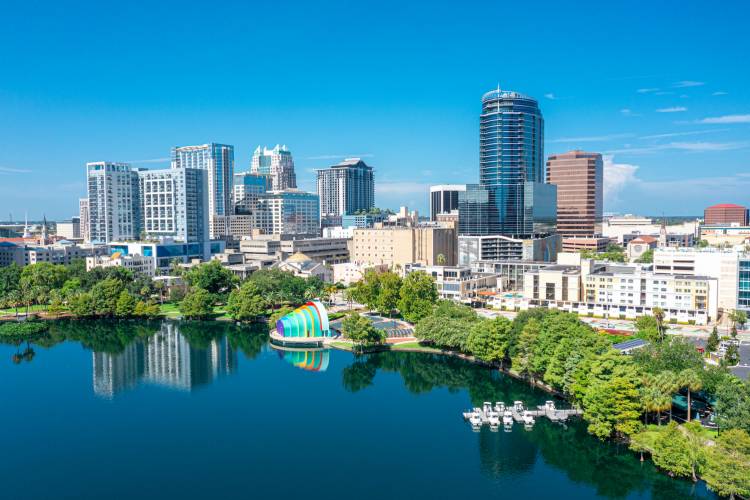 The warm climate, world-renowned attractions, and affordable cost of living in Central Florida draw many visitors to Orlando year-round. These features and many others have made Central Florida a popular snowbird destination for decades.
Snowbirds seeking to escape the harsh winters of the northeast have a lot to choose from in Orlando, Florida, which US News & World Report named as one of the best locations to retire in 2018. Renting a reasonably priced long-term vacation house allows visitors to travel whenever they choose and live in different locations.
The following are the top benefits of spending winter in sunny Orlando, Florida, making it the ultimate snowbird destination.
World's Largest Theme Park Hub
Orlando's not only the best snowbird destination in Florida but also one of the US's top most visited places for tourists. The Walt Disney World alone boasts four uniquely different parks within a park! And there's more. Universal Orlando, SeaWorld, Legoland, and Discovery Cove are running all year long with exciting attractions and events.
Feeling like a kid again and getting lost in these exciting theme parks is always possible. Orlando also boasts a range of parks and natural reserves like Gatorland, Lake Eola Park, Icon park, etc.
Affordable Living
When it comes to where to snowbird on a budget, Kissimmee and Orlando are top choices in the Central Florida region, these areas are packed with a range of vacation homes and snowbird-specific homes. In addition, because of being a snowbird hotspot, Orlando's property owners offer a lot of snowbird-friendly vacation homes, which ensure a proper vacation within a budget.
RV Parks
What makes a place snowbird-friendly is its availability of RV parks since RVs provide a cost-effective vacation. Orlando is also home to some of the best snowbird RV destinations. Every year, Orlando draws millions of visitors, including family vacationers, globetrotters, conference-goers, and snowbirds. RV snowbirds, who foster close-knit communities that promote snowbird culture, are partially responsible for Florida's retirement community.
Most campsites and RV parks include water and electricity hookups for extended stays. In addition, snowbirds may find charming RV parks and resorts throughout the area that provide a variety of facilities and activities to make touring Orlando a breeze.
Disney's Fort Wilderness Resort and Campground, only 10 minutes from Walt Disney World Resort, is a top choice for RV snowbirds. It offers a range of campsites, giving them options to find the best fit. Then there's Kissimmee RV Park which is within 12 minutes distance from Walt Disney World resort and a loved location among snowbirds. Also, Orlando RV resort, Moss Park Campground, and Lake Breeze RV park are worth checking out.
Weather
Orlando is undoubtedly one of the best snowbird destinations for its sunny weather, even during the winter. The Sunshine State is flowering into its most delightful season of the year while the northern and midwestern regions prepare for the winter. In addition, Florida experiences pleasant tropical weather for much of the winter. Therefore, it is no surprise that the sunshine state is one of the most sought-after snowbird locations in the nation.
Snowbirds who spend the winter in Florida may easily reach it from the northeastern and midwestern areas, some of which have frequent daily lows considerably below freezing from December to February.
Heaven for Golf Lovers
Orlando, home to numerous famous golf courses, is a golf lover's delight. However, everywhere in Florida is considered an excellent destination for snowbirds. In addition, snowbirds may improve their golf game throughout the winter because of the city's consistently mild weather. Therefore, Orlando's golf courses make it a top snowbird destination in the US for golf lover snowbirds.
Reunion Resort, ChampionsGate, and similar golf resorts may also be found. In addition, golf enthusiasts are always excited about the Arnold Palmer Invitational hosted in Orlando by the Bay Hill Club and Lodge.
Fall Festivals, Thanksgiving, Christmas, & New Year's
Winter is the peak season for snowbirding in Orlando and a time for myriad festivals; you can't estimate how many snowbirds live in Orlando, Florida, during the winter season. Halloween and fall festivals run till November, then Thanksgiving and Black Friday shopping, Christmas in
December, and then it ends with New Year's. All these events occur one after another, and Orlando, Florida, is known for its extraordinary celebrations. All of it makes Orlando the ultimate vacation and snowbird destination.
Final Words
Many people choose Orlando, Florida, as their snowbird destination year after year because of its seasonal events, weather, affordability, restaurants, shopping options, and world-renowned attractions. If you're looking for a snowbird rental in Orlando, check out these rentals, and if you are feeling lost planning your snowbird trip, contactus. We are always here to help you find the best vacation home.